Employee Spotlight 4: Adam
04 May 2023
In the fourth instalment of the employee spotlight series, we gain an engineer's perspective about the goings on of the shop floor and parts of our manufacturing process. Alex spoke with Adam, a Micro Systems' apprentice-turned-engineer, to find out more about people's working experience at Micro Systems.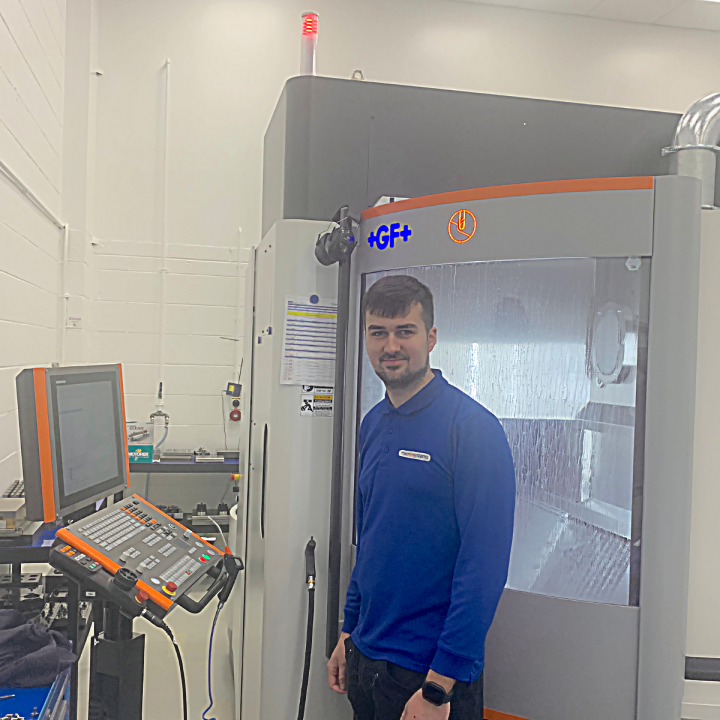 Alex: How long have you been at Micro Systems?
Adam: I've been here for 6 years now. I started my apprenticeship 6 years ago and then took on a permanent role after I finished.
Alex: Can you explain your current role and your general tasks and responsibilities?
Adam: At the moment I'd say I do roughly half-milling, half-cylindrical grinding depending on which areas are most busy, or if someone's on holiday and a certain area needs extra cover. I programme and run the operation of machines such as this one. [Adam is currently loading a program into Micro System's new X400 machine]
Alex: How has your role progressed during your time at Micro Systems?
Adam: I've worked in a few areas during my time, I started on milling then moved to surface grinding then on to cylindrical grinding, so I can now cover all 3 depending on what's needed. Earlier in the year someone came in and we had some training on CAM software to improve milling, we regularly have on-the-job training to help us improve and continuously develop. I started as an apprentice and was nominated as apprentice of the year, before moving into a full time role.
Alex:What do you find most interesting about the work Micro Systems does?
Adam: The complexity of machining is often a challenge, but the achievement after finishing a tricky part makes it all worth it. The fact that the end products are used for medical devices is another rewarding aspect of the work, and I like seeing and learning as much as possible about the end products we've all contributed to.
Alex: How would you describe the culture here at Micro Systems? Do you enjoy being part of the engineering team here?
Adam: It's a really friendly & close knit group which creates a nice working environment for all of the team. Everyone gets along so there are plenty of social meet-ups between team members, going out for drinks of a weekend or arranging events. Unfortunately I had to miss the recent company go karting trip, but I'm looking forward to joining the next events which will be organised!
Alex: Alright, great thanks Adam!
Adam: You're welcome!

Micro Systems specializes in the design, manufacture and validation of ultra precision micro molds for the medical, pharmaceutical and optical markets, at the same time, the development and use of micro and nano technologies in the design and manufacture of injection molded components. We have a dedicated micro molding facility, and have ISO13485 and ISO9001 certifications. Micro Systems strives to create a positive working environment where respect, teamwork, training, communication and opportunity are at best. For more information, please Contact us or visit our website.