The growth of MedTech sector in Ireland
14 Sep 2023
Ireland is building a world-class MedTech ecosystem to become the emerging global hub for the research and development of Medical Technology. 
The MedTech sector in Ireland
The Irish Medical Technology industry has expanded from a modest 75- company cluster in the early 1990s to a 450-company cluster that employs about 45,000 people (7.5% of workers in Ireland's manufacturing sector), making it one of the industry's top worldwide centres (The Irish Times). Ireland employs more MedTech specialists per capita than any other country in Europe as a whole. With yearly exports of €12.6 billion to more than 100 nations worldwide, Ireland is also the second-largest supplier of MedTech goods in Europe (Enterprise Ireland). Ireland is also home to all 10 of the top biopharma and technology firms in the world, in addition to 9 of the top 10 MedTech companies.
In addition, the Irish Medical Technology sector has undergone great development over the last five years, and the global pandemic has brought attention to the sector's importance. By 2024, the digital health sector is expected to reach more than €300 billion in Ireland, home to around 200 digital health businesses (The Irish Times). 
Global companies are making significant investments in the MedTech sector in Ireland. For example, in addition to the 5,000 people presently employed by the firm here, Abbott Ireland has invested a historic $450 million in a greenfield facility in Kilkenny, which will create an additional 1,000 value-added employment. The biggest 3D printing factory of its type worldwide (156,000 square foot), Stryker's new additive manufacturing plant in Cork opened its doors in August 2022, where it will generate 600 high-tech employment while producing specialist medical items including implants to treat bone-related disorders. At its facility in Galway, Boston Scientific recently launched a new €100 million expansion and 300 new employees.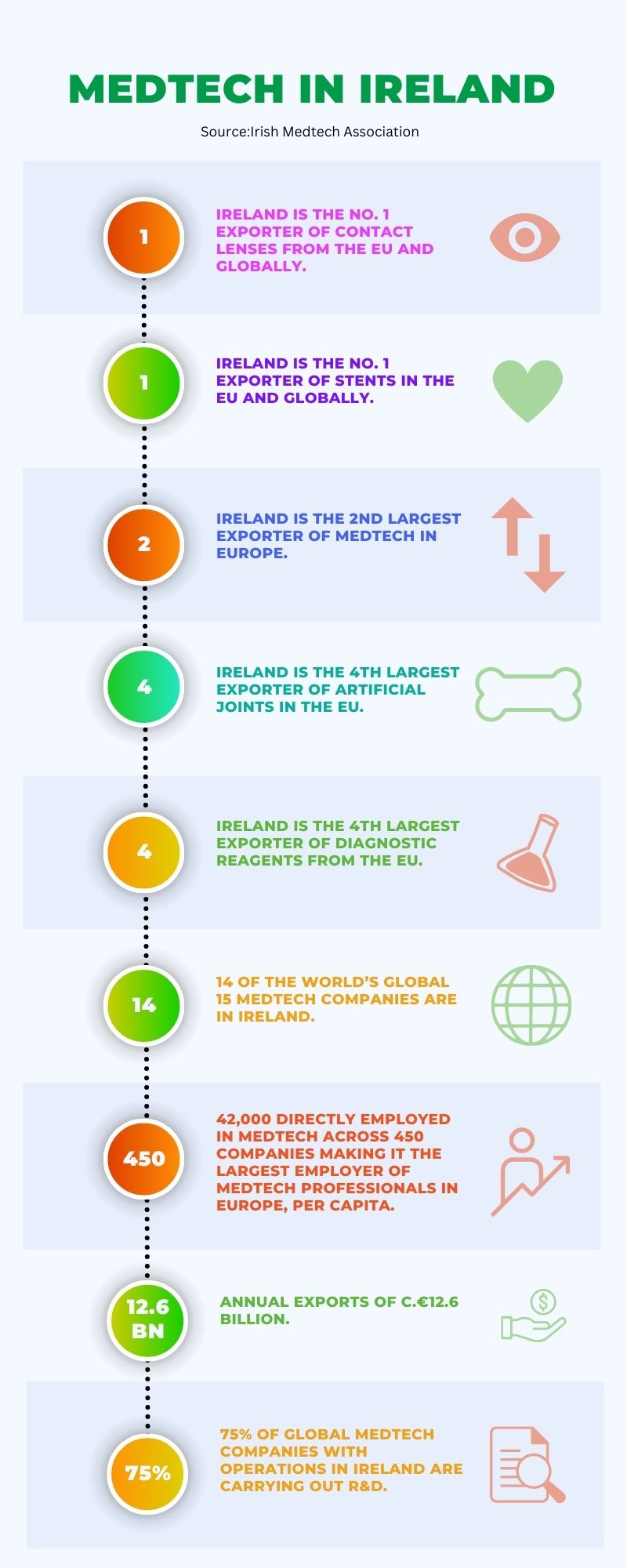 The MedTech ecosystem in Ireland
The Irish MedTech ecosystem is one of the key factors for the significant growth of the MedTech sector here. There is a strong collaboration between the great focus on innovation and the presence of an ecosystem with a high degree of connectivity between the top global medtech businesses, a world-class academic research sector, and a network of top-tier government-funded research institutions. 
The Irish government plays a crucial role in financially backing up R&D activities, as according to a research, 70% of Irish MedTech businesses' involvement in R&D activities is due to government funds. The Disruptive Technologies Innovation Fund (DTIF), which has a €500 million budget, is one of the largest state-sponsored award programmes, encouraging collaboration between small and medium-sized firms and research institutions to create novel goods and technology. Collaborative strategy, such as through fostering close linkages between medical device manufacturers and the academic institutions, are training the workforce of the MedTech future in Ireland. 
In addition, there is a strong innovation-oriented attitude and commitment in the MedTech R&D in Ireland. This dedication to innovation has its roots in higher education, as many prestigious universities in Ireland have a strong emphasis on healthcare, supplying the MedTech industry with significant developments as well as highly qualified staff and creative ideas. As many as 68% of FDI global medical technology businesses operate in Ireland, employing 1,229 researchers and spending an annual €181 (£163) million (Irish Advantage). 
Besides, given that Ireland also has robust technology and pharmaceutical businesses, there is potential convergence between MedTech, technology, and these sectors. Innovations in fields like digital health and combination devices are being brought about by this convergence potential.
The future of MedTech sector in Ireland
According to The Irish MedTech Association's 2022 report The Global MedTech Hub 2025, it is believed that Ireland can influence the future of healthcare and capture a larger portion of the global industry, which is expected to rise at a CAGR of 5.6% per year and reach revenues of €530 billion by 2024. The four main strategic pillars set by the Irish government to promote this plan are: 
Innovation with impact

Talent to thrive

Competitiveness of the ecosystem

Excellence through collaboration

Micro Systems is proudly attending the coming Medical Technology Ireland Expo and Conference on the 20 – 21 September 2023 at Galway Racecourse, Ireland. This is Europe's 2nd largest and fastest growing medical device manufacturing show, welcoming more than 1,200 attendees from all over the world. Come visit us at Booth 135 to talk about all things mold tooling and injection molding – MedTech related! 
Contact us today for a trusted, professional medical device manufacturer!