Visit us at our coming events
11 Apr 2023
Exhibiting at trade shows is a big part of our business, as this gives us the perfect opportunity to showcase our outstanding products and the latest innovations to existing and potential customers, at the same time, allow us to strengthen our network within the industry. After being disrupted by Covid-19 for years, 2022 marked our returns to major trade shows globally, with many more lined up in the coming years. 
Our trade fairs in 2022
In 2022, Micro Systems participated in the 2 major trade fairs, Medical Manufacturing Asia 2022 in Singapore and COMPAMED 2022 in Düsseldorf, Germany. 
At Medical Manufacturing Asia 2022, we exhibited along with 700 businesses from over 50 countries, showcasing our best practices in mold design and micro components to more than 12,700 attendees over the 3 days of the event. This was an incredible opportunity for us to present our product innovations to the Asian market, where we have been serving our customers for more than 10 years with our well established facility at MedTech Hub in Singapore. We received a number of interesting enquiries from businesses based all over Asia, interested in our manufacturing capabilities in lab-on-a-chip technology, micro molding, mold design and production technology. 
COMPAMED 2022 in Düsseldorf, Germany was the 15th time we participated in this leading platform for state-of-the-art medical technology. Especially in recent years, COMPAMED has become a hub for sophisticated high-tech solutions in micro- and nanotechnology on a worldwide scale. It is exciting for us to showcase our products, and discuss with visitors about our latest innovations that could lead their projects to success. 

Exciting upcoming events in 2023 
MD&M West 2023 marked our exciting beginning for the year 2023, with Andrew Wardle and Alex Clark from our sales team heading off to California, to join with more than 1,400 suppliers and developers, over the sunny 3-day event. We brought to the event a number of our micro molded components in various materials, including our latest innovations in microfluidic chips, micro molded implant in medical grade PEEK with thin wall section, PEEK bone implant and micro nozzle. We again received great interest in the design and production of micro components, which again proved our reputation for being widely acknowledged as one of the most technically advanced medical mold-making facilities in Europe. 
In June 2023 (19th – 20th), Micro Systems is going to attend the Lab-on-a-Chip and Microfluidics Europe 2023 event in Rotterdam, The Netherlands with top-of-the-field researchers and industry participants from both academia and industry focusing on technology and innovation in the Lab-on-a-Chip (LOAC) and Microfluidics fields. This is a great opportunity for us to specifically showcase our expertise in Microfluidics and Lab-on-a-chip for applications in life science research, diagnostics, point-of-care/point-of-need and body-on-a-chip/organs-on-a-chip.
September 2023 is going to be a busy month for us, as we are going to exhibit in Medical Fair in Thailand (13 – 15 September 2023), Medical Technology in Ireland (20 – 21 September 2023) and InterPlas in Birmingham (26 – 28 September 2023). 
The 10th edition of Medical Fair in Thailand this September 2023 continues to be another great opportunity for us to navigate the dynamic marketplace of Southeast Asia for Micro Systems, helping us reach more potential customers in this fast growing market, where the Medical Device segment is expected to reach $10.89bn in 2023 and $14.76bn by 2027 (CAGR 2023 – 2027 at 7.90%). We would be exhibiting at Booth S17.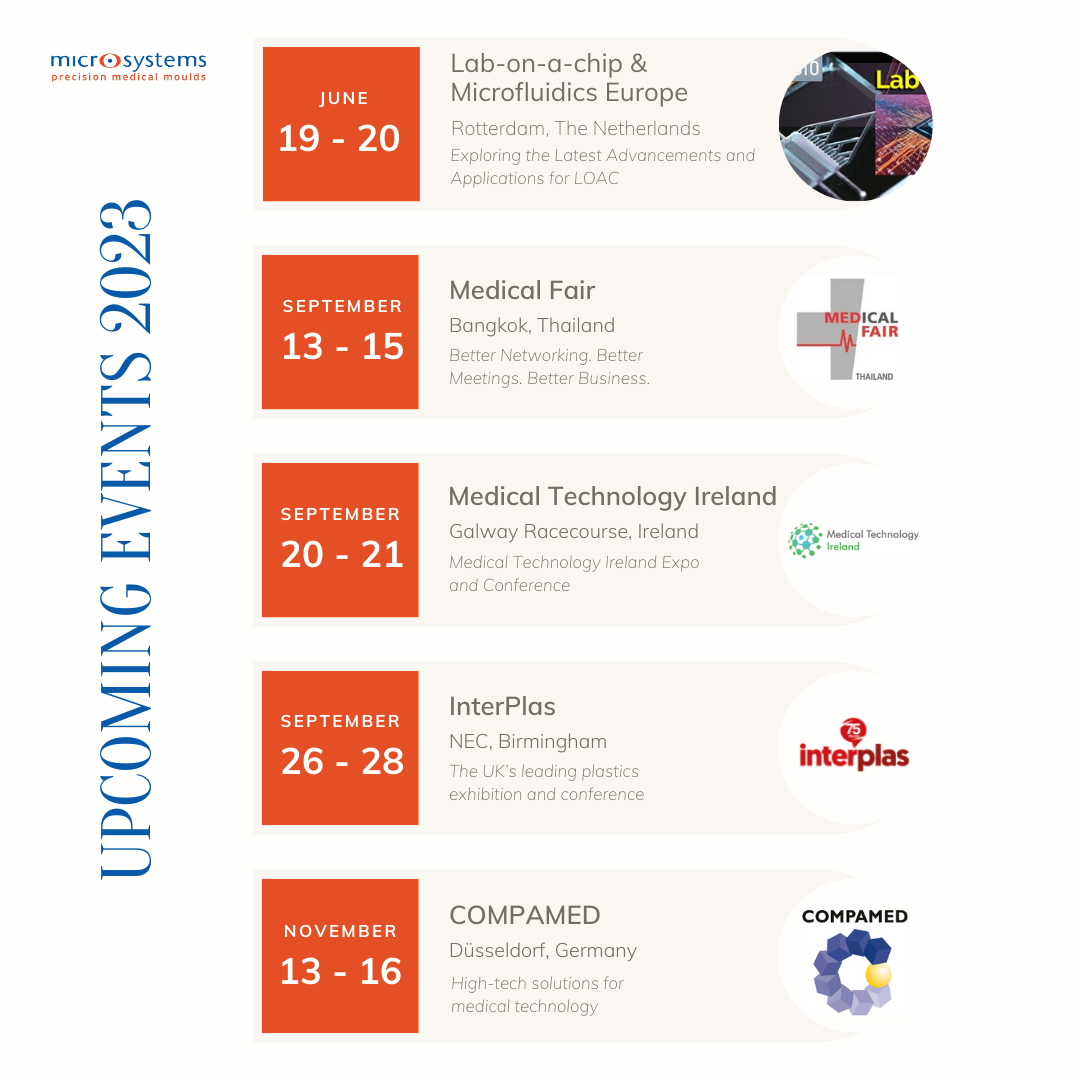 Our 2 days at Medical Technology Ireland will be our first time attending this unmissable two-day medical fair, showcasing our innovative medical micro-technology products to medical device and life science companies in Ireland. Compared to other exhibitions, the event is more focused with 220+ exhibitors and 1,200+ attendees, giving us more opportunities to have in-depth conversations with buyers, decision makers and medical professionals about our latest micro technology trends. You can find us at Booth 135 on the 1st Floor.

Micro Systems is also pleased to have a presence at this years' InterPlas, the biggest plastics and rubber exhibition in the UK, held in Birmingham every 3 years. This year will feature more than 400 exhibitors, welcoming over 12,000 attendees from across industry to discover the latest innovations in plastics manufacturing processes, technologies, materials and services. Being one of the leading suppliers in the medical micro molding market globally, we are excited to bring to this event our latest technologies from our facility at Golbourne, Greater Manchester. You can find us at Hall 4, Stand C75.  
Besides, as a part of our tradition, we will see you in Düsseldorf, Germany on the 13 – 16 November 2023, Booth F35.3, at the COMPAMED 2023. Do not miss this great opportunity to visit this leading exhibition dedicated to medical supplier industry and product development, with a focus this year on innovative materials, forward-looking trends and new services. 
We look forward to talking to you in our coming events!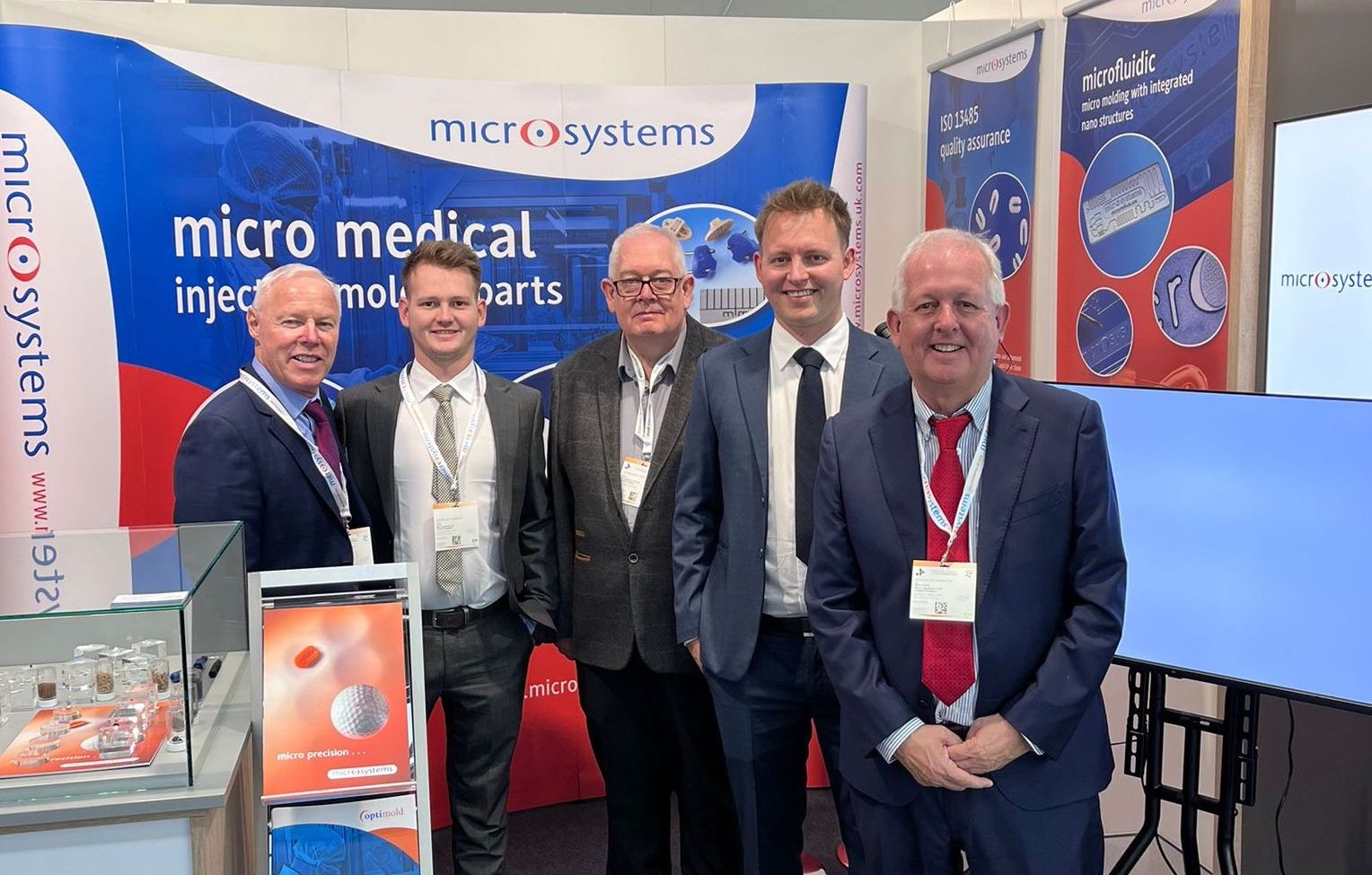 Micro Systems specializes in the design, manufacture and validation of ultra precision micro molds for the medical, pharmaceutical and optical markets, at the same time, the development and use of micro and nano technologies in the design and manufacture of injection molded components. We have a dedicated micro molding facility, and have ISO13485 and ISO9001 certifications. For more information, please Contact us or visit our website.