Environmental impacts of mold tool making for injection molding
07 Nov 2023
What is mold tool making?
Plastic injection mold tool making is a critical step in the production of plastic items, creating custom molds for use in plastic injection molding. It entails creating plastic components by designing, constructing, testing, and using tools. Mold tools can be designed for single or multi-cavity manufacturing, as well as for fully automated, semi-automated, or hand-loaded inserts. 
The molds are made up of both moving and stationary platens that are fastened together at the start of the operation. During this fast procedure, molten plastic is then injected at high pressure into the clamped mold, after which, air is pushed into the mold to ensure that the plastic covers the whole mold cavity equally. Before the platens release and the mold tool opens, the plastic is cooled and solidified within the mold. Some of the main steps in the mold making process are: 
Initial milling

: Shaping and sizing the mold foundation. 

Rough CNC Machining

: Basic mold cavity/cavity shaping 

Heat treatment

: The application of heat to harden and strengthen metal. 

Precision CNC Machining

: Finer machining for molds with more intricate features. 

Electrical Discharge Machining (EDM)

: Using an electrical discharge to smooth and carefully shape a mold.

Polishing/Finishing

: Applying the finishing touches to the mold to ensure that the pieces produced have the proper finish. 

Measurement

: Using an Automatically Programmed Measurement (APM) technology to ensure that the mold dimensions completely match the CAD design. 

Assembly and Fitting

: Assembling the mold and ensuring a tight fit between the mold elements and within the injection press 

Mold Testing

: The process of molding early pieces to test the eventual product's correctness  the authorized design/tolerances (these are toolmaker samples generated prior to the official first article for internal validation).
Medical mold tooling at Micro Systems
Environmental impacts of mold tool making 
Material
The choice of material for mold tool making, typically hardened steel, pre-hardened steel, aluminium and/or beryllium-copper alloy, strongly affects the overall environmental impacts throughout the mold's life cycle. Materials for injection molding tools are chosen based on the kind of polymer, production volume, mold cavity complexity and tool component type. Furthermore, the mechanical qualities required for tooling components such as ejector pins, clamp plates, inserts, cores, spruce bushings, gate inserts, support pillars, mold base plates, lifters, sliders, and interlocks influence the steel type used. 
| | | |
| --- | --- | --- |
| Steels | Application | Process |
| 1020 carbon steel | Ejector plates | Injection molding |
| 1030 carbon steel | Mold bases, ejector housing and clam plates | Injection molding |
| 1040 carbon steel | Support pillars | Injection molding |
| 4130 alloy steel | Cavity retainer and support plates | Injection molding |
| 6145 alloy steel | Sprue bushings | Injection molding |
| S-7 tool steel | Interlocks and hatches | Injection and compression molding |
| O-1 tool steel | Small inserts and cores | Injection, compression and blow molding, extrusion |
| A-2 tool steel | Injection and compressions molds | Injection and compression molding |
| A-6 tool steel | Injection and compression molds | Injection and compression molding |
| D-2 tool steel | Gate inserts, lifters and sliders | Injection and compression molding |
| H-13 tool steel | Injection mold cavities, dies and punches | Injection molding |
| P-20 tool steel | Injection mold cavities, dies | Injection and blow molding, extrusion |
| 420 stainless steel | Injection mold cores and cavities | Injection, compression and blow molding, extrusion |
Some examples of steel materials used in mold making
As the most common material used for mold making, steel manufacturing has a multitude of environmental effects, including CO, SOx, NOx, and PM2 emissions, wastewater pollutants, hazardous wastes and solid wastes. Coking and iron-making have the greatest environmental effects from integrated steel plants. Carbon dioxide emissions from energy use account for nearly all of the greenhouse gas emissions involved with steel manufacture. In addition, coke manufacturing is a major source of pollution in the steel industry, as coke ovens emit air pollutants such as coke oven gas, naphthalene, ammonium compounds, crude light oil, sulphur and coke dust. Additionally, water emissions are caused by the water needed to cool coke after it has been baked. The majority of iron-making byproducts are slag, limestone, and iron ore impurities gathered at the top of the molten iron. The leftover slag is normally supplied to the construction sector after sulphur dioxide and hydrogen sulphide are volatilised and trapped in air pollution control equipment. Besides, the most common forms of waste from electric arc furnaces are gaseous emissions and metal dust.
In general, prior to machining, the materials require no additional treatment or care beyond what is ordinary industry practice for metal handling. 
Waste
The electrical discharge machining (EDM) or spark erosion method has grown popular in the mold-making industry as it not only permits the construction of difficult-to-machine forms, but also allows the shaping of pre-hardened molds without the need for heat treatment. The quantity of waste generated during the EDM process depends on the design of the mold, the material and the  machine settings, however, most of which could be collected to be recycled. However, it is more difficult for small and local businesses to collect and correctly measure all waste produced, as small scraps, including chromium, lead, nickel and copper, could be sent straight into dumpsters and go to local landfills, which could raise serious environmental alerts. 
Additionally, used wire is another type of waste generated during the wire EDM process. The wire is not categorized as hazardous waste and is either reeled onto a spool or gathered to be cut up for disposal as garbage. Wire choppers are sometimes available as an integrated feature on some EDM systems. Thanks to its recyclability, most metal scrappers are prepared to compensate EDM makers for discarded brass or copper, while used wire could still be collected and disposed of in landfills at smaller workshops and lower volume businesses. 
Mold design and making at leading companies like Micro Systems (UK) apply the use of the most advanced techniques and machines available on the market, allowing customers to minimize their waste while making molds with the highest precision and tightest tolerances. The application of CNC (Computerised Numerical Control) machining allows for high precision and stability, enhanced efficiency and complexity, while reducing processing time, eliminating errors and reducing the waste of materials. 
Energy consumption
In the UK alone, the manufacturing and industrial sector accounted for 16% of total consumption (2019), reaching 40.5 million tonnes of oil equivalent (2020), energy consumption is now one of the most crucial aspects of the environmental performance of any business. Compared to previous generations, modern EDM machines could achieve significant reductions in consumed and wasted energy, thanks to thermal stability and regulated dielectric temperature by new pumps, energy saving standby mode. Generally, the energy required to run the EDM unit is no more than that required by equivalent machining equipment, and could be significantly improved through the use of sustainable energy resources, better planning and modern technology.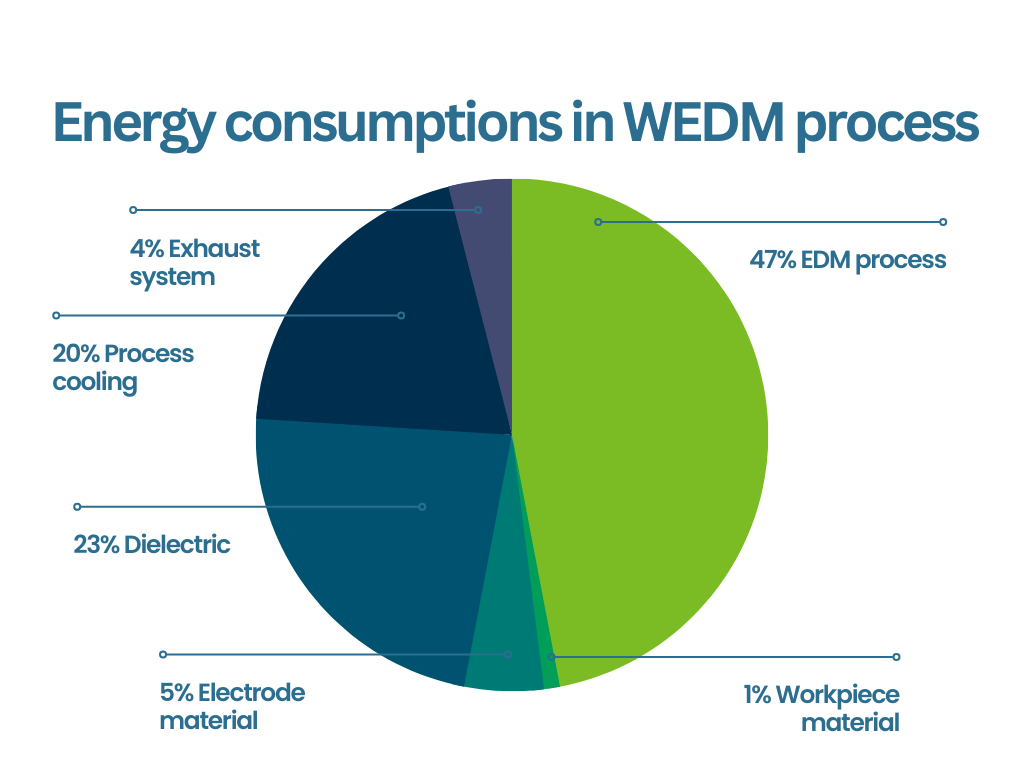 An estimation of the percentage of energy consumptions in WEDM process (link)
At Micro Systems (UK), we pride ourselves on our most advanced mold manufacturing capabilities in Europe and possibly worldwide, with well-known brands including Kern and AgieCharmilles, that allows us to produce state-of-the-art molds at a high level of energy efficiency. For example, our Kern Pyramid Nano micro milling machines have a repeatability of less than 0.5 micron, and are capable of producing surface finish of less than 10 nm Ra for microfluidic and micro optical applications, with the power pack option to optimise the overall energy consumption as well as to increase the productivity and to ensure maximum availability of the machine. 
Overall, the environmental impacts of mold tool making could be considered fairly innocuous if the whole process is carried about with thoughts by responsible manufacturers and suppliers. Micro Systems (UK) uses our expertise in mold design and manufacture to support our customers in revolutionizing their products while aiming towards sustainability. In our local community and in injection molding across the world, we seek to be a paradigm for sustainability in design and manufacture. Contact us today to start planning your injection molding project and take advantage of our decades of medical molding expertise.
COMPAMED is one of the biggest international trade shows for the medical technology supply industry, held in Düsseldorf, and one of the main themes of the show this year is sustainability. We will see you at Booth F35.3, Hall 8A, MESSE, Düsseldorf, Germany on 13 – 16th November, 2023!