MedTech Research and Development in Singapore
10 Jul 2023
Medical knowledge and technology are rapidly advancing worldwide, creating enormous prospects for future inventions that will revolutionise healthcare. With its expanding population and economy, along with supportive regulations and a thorough development base, Singapore offers MedTech businesses a sizable unexplored opportunity in Research and Development. 
According to the latest report, more than 60 international MedTech businesses have regional offices and manufacture products in Singapore, conducting research and development on a variety of topics within the healthcare industry. 25 international MedTech businesses have built R&D facilities in Singapore, and several of them have made investments in end-to-end capabilities that range from product design through optimization and validation.
Production base and Geographical advantages for high-end medical technology
Singapore is an important manufacturing base for a wide range of medical technology goods for international markets, including implantable pacemakers, contact lenses, and instruments for life sciences. Companies that manufacture high-end medical equipment take use of Singapore's excellent design and engineering talents, base of automated suppliers, and stringent quality control requirements. With the well-established facilities and support, Singapore helps lower the barriers to entry in MedTech R&D. Being one of the world's financial centres, along with its commercial friendliness, several IT, electronics and software companies, and technological hub support, Singapore has all it takes for MedTech companies to succeed, especially in the early stages of development and commercialization. 
In addition, with the growth of Artificial Intelligence (AI) across industries, MedTech is becoming more and more dependent on data and AI-driven technology. The market for AI in healthcare was estimated to be valued around 11 billion dollars in 2021, and it was expected to reach over 188 billion dollars in value by 2030, growing at a compound annual growth rate of 37% between 2022 and 2030. As the first government in Asia to engage with the World Economic Forum's Centre for the Fourth Industrial Revolution to create an AI framework, Singapore is now better equipped to continue developing its AI capabilities and competing globally, especially in MedTech R&D. Till now, AI is revolutionizing the MedTech industry in Singapore, in early detection, surgery, diagnosis, treatment, decision-making, end-of-life care, research, and education. 
Geographically, Singapore is renowned for its advantageous position due to its extensive logistics network with one of the busiest container ports and cargo airports in Asia, having more than 200 shipping lines connecting the area to 600 ports in 123 countries and about 4000 flights to 180 locations in 59 different countries. In addition, 13 free trade agreements between Singapore and several nations eliminate tariffs on medical items including contact lenses, electrocardiogram/ultrasound/magnetic resonance imaging equipment, and heart valves, undoubtedly helping the MedTech industry and boosting R&D activities. Without doubt, Singapore is the ideal starting point for MedTech companies looking to expand throughout all of Asia. 
Additionally, Singapore has a well-established reputation in the area for multinational MedTech companies that want to enter the growing market in Asia. As many MedTech products are produced for the US or Western Europe, multinational corporations understand that they cannot just simply import such products into Asia, where there are extremely distinct demands from Western markets and from one another. Companies may learn more about Asian markets by carrying out R&D in Singapore, both in terms of commercial development and disease conditions in a multicultural culture, hence determining the most effective strategies to solve issues that are specific to a certain market. Singapore not only develops its MedTech R&D to sell to the market in the West, but also serves as the key hub for new products to be developed specifically for the needs in Asian countries.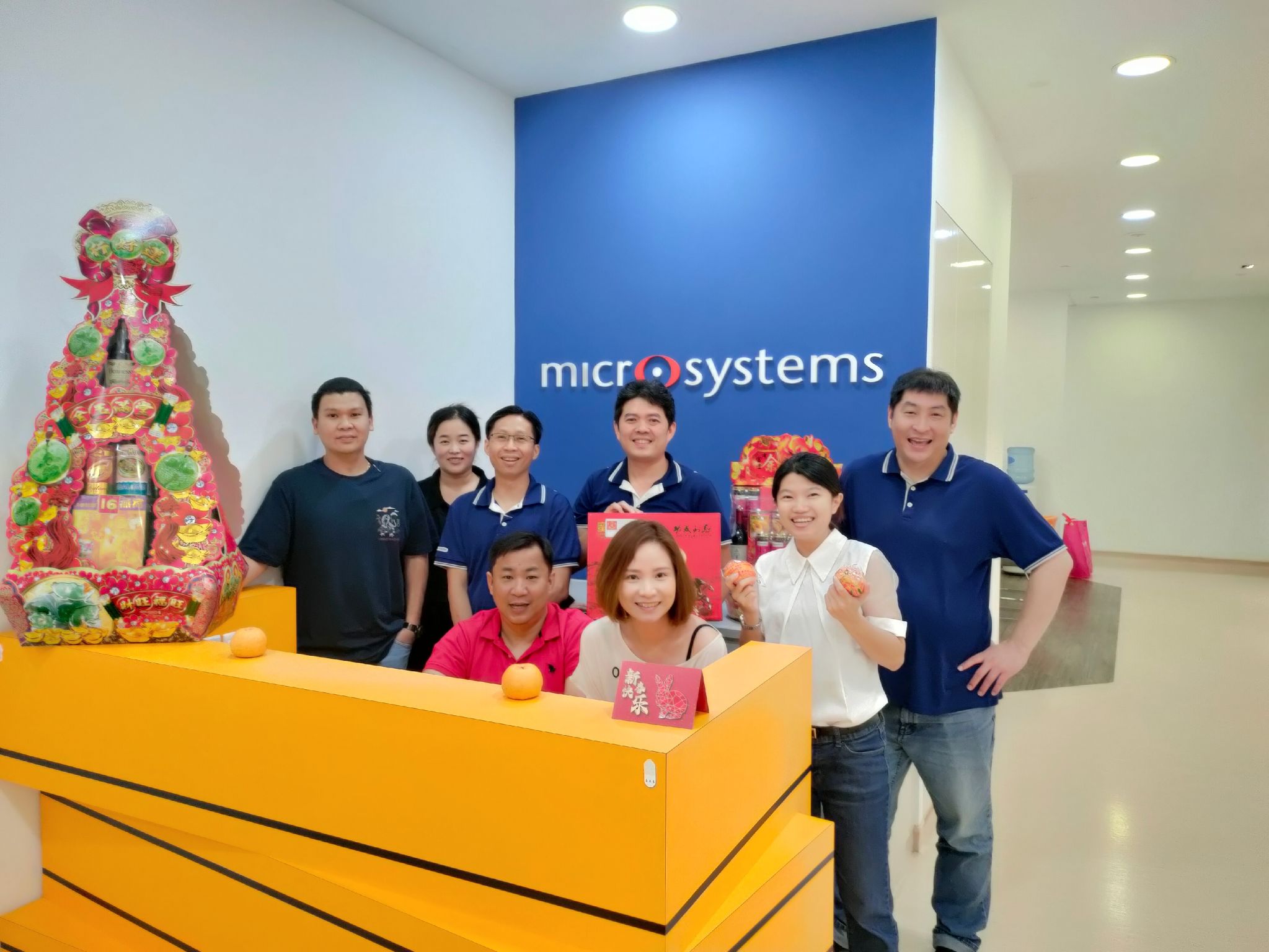 Our amazing team in Singapore (Photo: Micro Systems) 
 A cutting-edge R&D ecosystem with a strong governmental support
The extensive network of renowned universities, research centres, and cutting-edge start-ups in Singapore enables MedTech enterprises to access a thriving open innovation environment. With a significant presence of more than 25 R&D centres set up by international MedTech companies and a local pool of more than 220 MedTech start-ups and small-medium businesses, MedTech companies in Singapore have been increasingly tapping into this network of innovation, talent, and ideas to develop next-generation products and solutions for the region. Moreover, 50 regional offices of the top Medtech companies in the world are situated in Singapore, the centre for e-commerce, marketing, and regulatory innovation to increase access to Asian markets. 
MedTech businesses in Singapore are also taking their products to another level by focusing on collaboration-based and user-friendly solutions. MedTech companies now understand that patient and healthcare professional demands must be taken into account while developing new medical technology solutions. More and more designs are in conjunction with the key stakeholders, guaranteeing that solutions can be integrated with current processes and lifestyles. Consequently, Singapore's MedTech ecosystem is developing since they contribute to the development of more scalable and user-friendly solutions.
Another strong factor that contributes to the development of MedTech R&D in Singapore is early-stage funding. With a high level of investor willingness to invest in early-stage and start-ups within the MedTech industry, both locally and internationally, local MedTech companies in Singapore have a better chance and position to test their innovations in a medical environment and better position them for adoption and commercialization later on. 
Some outstanding MedTech R&D projects within the growing ecosystem in Singapore include Eye illness diagnosis using Selena+ AI algorithms with SNEC, SERI, and NUS School of Computing, microRNA (miRNA) technology with MiRXES, Thermo Fisher Scientific project with A*STAR, AIM Biotech's microfluidic devices, etc. 
Great supports from the government
The Singapore government has made significant direct investments in academic research that forms the foundation of new systems and products. Through the RIE2020 Plan, the National Research Foundation is investing S$19billion to sustain and encourage growth, of which the majority of S$4billion is allocated for health and biomedical sciences research, focusing on 5 important treatment areas: diabetes, cardiovascular disease, infectious illnesses, ophthalmology, and cancer.
The nation has also built spaces to act as company incubators, for example, incubators like Trendlines Medical Singapore, a division of the Israeli company Trendlines that first opened its doors in 2016.
In 2017, the Medical Device Pre-Market Consultation scheme was introduced by the Health Sciences Authority (HSA) to help enterprises conducting R&D in Singapore better understand the regulatory requirements at the development and pre-registration stages.  As a result, MedTech businesses could shorten the time to market and include regulatory concerns even during the product design and development process, making it more cost-effective and encouraging for them to invest in MedTech R&D in Singapore. 
The centre for developing innovative business models and strong collaborations
Singapore provides businesses with a solid base to create new business models centred on big data and patient-centric care as a result of the trend towards linked devices. Companies can create innovative go-to-market strategies in Asia thanks to the country's base of design consultants, data analytics research, and applied data analytics personnel. 
In addition, there is a strong collaboration between the public and private sector in Singapore, hence the country's MedTech industry is expanding as a result of increased backing from investors and governmental healthcare clusters. This expansion is fueled by government financing, academic talent, a strong start-up environment, and collaboration across legacy institutions. For example, the Singapore Health Technologies Consortium (HealthTEC) was established in 2019 by the National Research Foundation to bridge the gap between R&D and implementation by bringing together academics and industry partners and to offer its members initial financing for joint projects.
The market size of MedTech in Singapore 
With its highly qualified biomedical workforce, first-rate infrastructure, encouraging governmental regulations, and major R&D expenditure, among other things, Singapore's pharmaceutical sector is paving its path to become a worldwide manufacturing centre. Implanted pacemakers, contact lenses, and mammography equipment are just a few of the cutting-edge medical technologies that are produced in large quantities for international markets in Singapore. According to a recent report, the MedTech ecosystem is expanding in Singapore, from S$3.1billion in 2008 to S$13.3billion in 2018, Singapore's economy benefited from the MedTech sector. Homegrown MedTech businesses have increased from 100 in 2014 to more than 250 in 2018, according to Enterprise Singapore (ESG). Singapore is also leading the area in MedTech research and development thanks to its goal for a Smart Nation.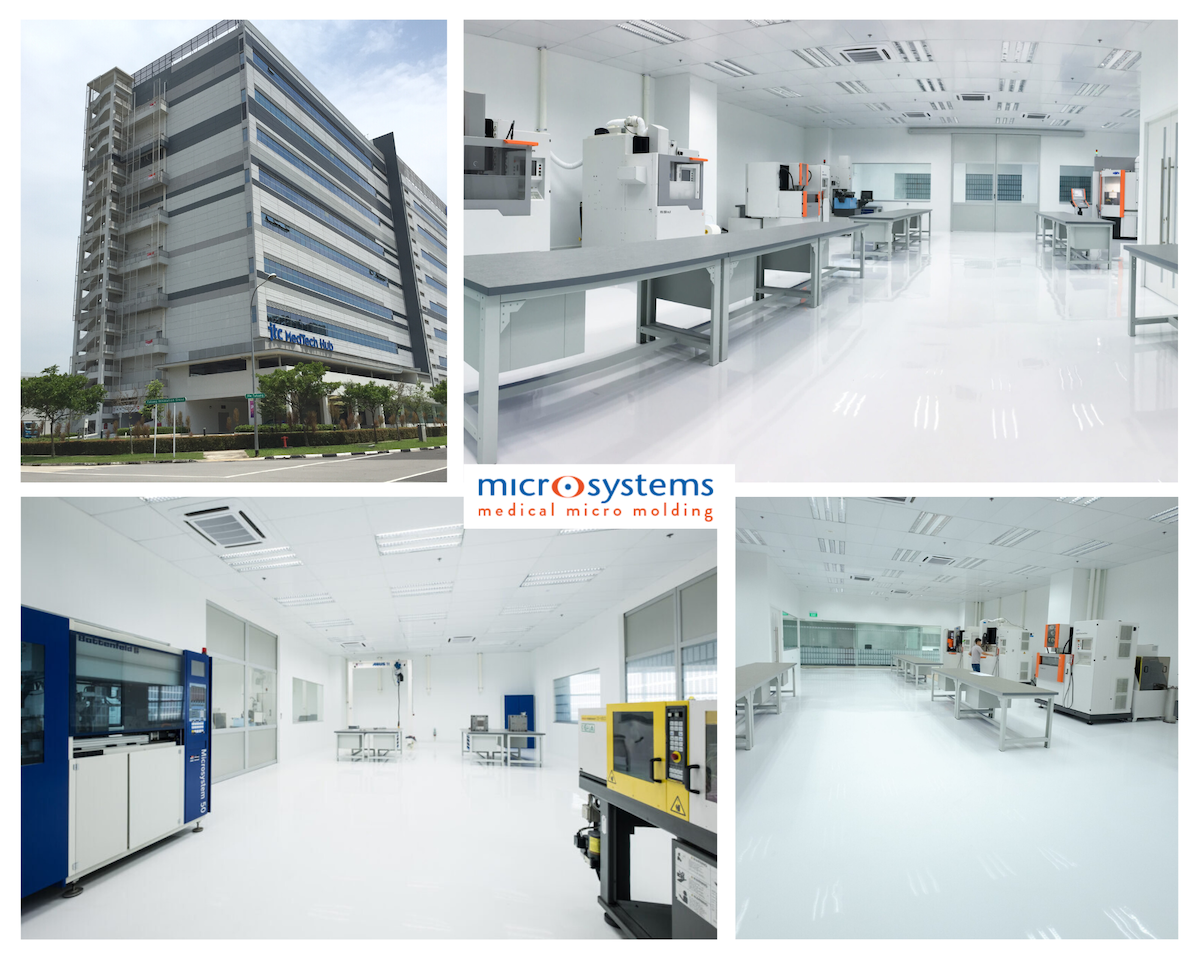 Micro Systems's vast know-how in design, ultra-precision micro machining capabilities and expert knowledge in micro molding technology allow us to manufacture advanced microfluidic molds with tolerance as low as +/-0.001mm, with integrated optics. We have a dedicated micro molding facility, and have ISO13485 and ISO9001 certifications. For more information, please Contact us or visit our website.