How to choose medical device injection molding companies?
12 Sep 2023
Selecting a medical injection molding manufacturer is undeniably a key element of the manufacturing plan for any medical equipment, as it involves the stricter rules and regulations related to the healthcare industry. Ensuring that the chosen manufacturer meets all the desired expectations and requirements is crucial in guaranteeing the success of the project.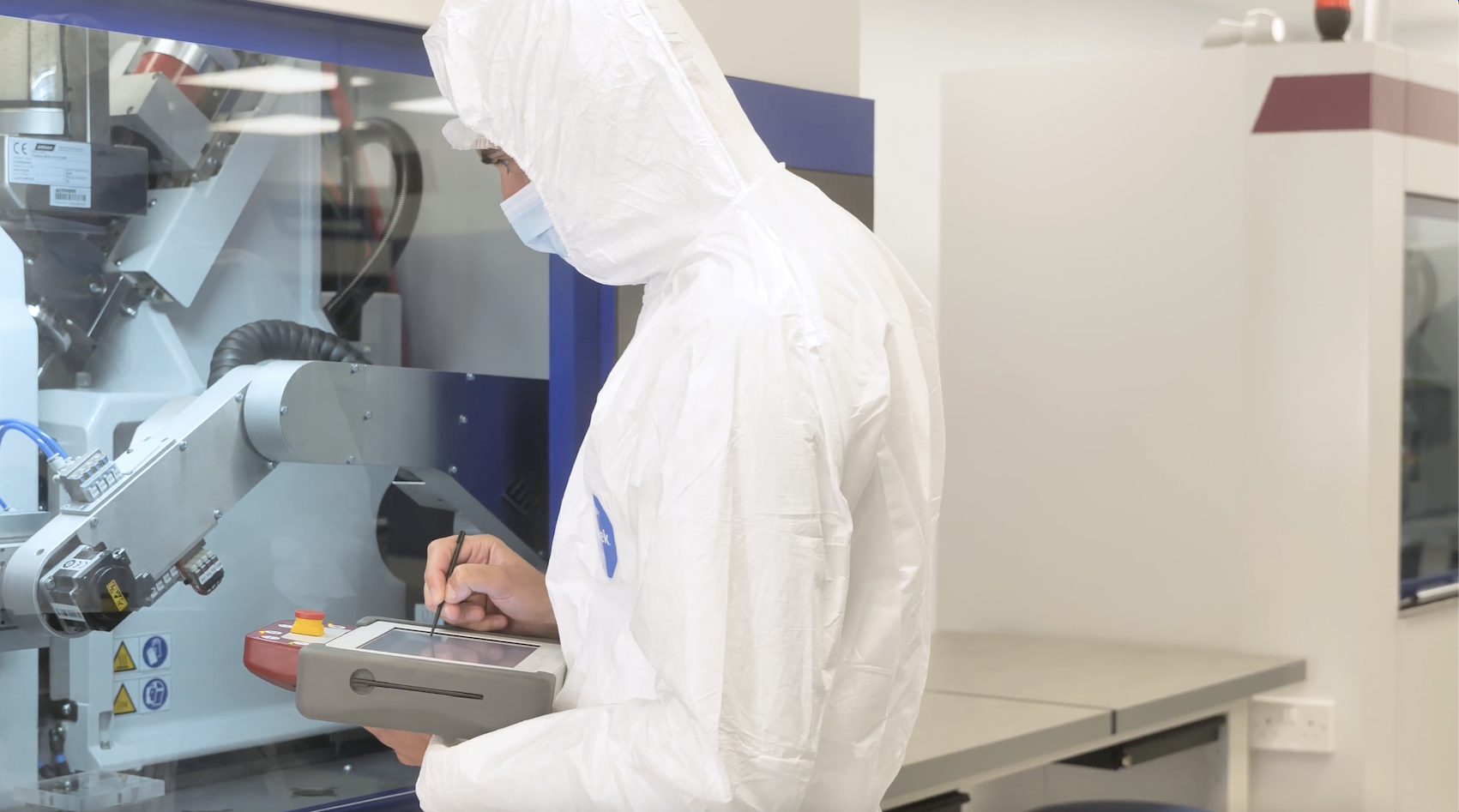 (Photo: Micro Systems)
Does the medical device injection molding company have the required certifications and cleanroom facilities? 
For OEMs, having a high-quality system and the necessary certifications, such ISO 13485 and ISO 9001, as well as a risk mitigation strategy in place, is vital. These important certifications hold the medical device contract manufacturers to particular criteria that keep them continually following regulatory obligations and serving the demands of their clients, especially when the final devices are sold globally. Additionally, it implies that these qualification holders have expended the time, money, and tremendous effort necessary to guarantee their commitment to the quality and safety of all manufactured products. 
In addition, most medical devices require clean rooms for their manufacturing process, to reduce product contamination from airborne particles, contaminants, and pollutants. For example, in an ISO 7 cleanroom, the density of particles smaller than 5 microns must be fewer than 2,930/m3. How small is a micron? You can think that a human hair has a diameter of about 100 microns, and the human eye can only perceive particles that are at least 50 microns in size. Devices produced in cleanrooms often have superior quality, and producers frequently have more experience and take more care of the products throughout the production process.
Choosing a medical device injection molding company with all the necessary accreditations, FDA compliance, manufacturing environment and a quality emphasis can ultimately save you time and money because quality is frequently one of the most crucial elements in any choice related medical devices.
Does the medical device injection molding company have the right technology and services? 
It is crucial to take into account the expanded service choices and the unique technical needs of the production process when looking for a medical plastic injection molder. Choosing a medical device injection molding company that provides a wide range of services in addition to the typical ones, such as prototype, plastic component design, mold design, mold manufacture, mold flow analysis, mold testing, metrology and much more, is highly beneficial. 
The chosen medical device injection molding company also needs to be able to meet your speciality injection molding process requirements, from over-molding, insert molding, 2-shot molding to micro molding. The manufacturer needs to have not only the required machinery and manufacturing conditions to carry out the process, but also the related specific expertise and experiences. Having the most advanced technology, including machines, design softwares and metrology equipment, allows the medical device injection molding company to deliver the projects with higher quality, shorter timeline and more cost-effectiveness.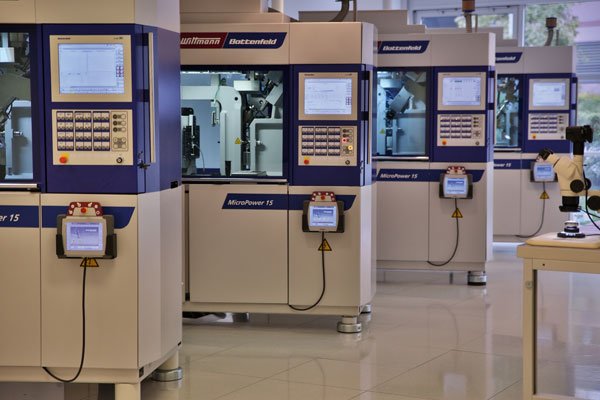 Having the latest technology allows injection molding manufacturers to stay ahead of the competition (Photo: Micro Injection Molding machines at Micro Systems)
Does the medical device injection molding company meet my production volume and timeline? 
Making a more focused selection of plastic injection molding companies requires considering the scope and volume of your manufacturing requirements. The ordered volume (either prototyping of less than 1000 parts, or mass production of more than 100,000 components at a time) requires different scope of production facility and expertise, and not all companies have the capabilities to meet both volumes. 
In addition, time is a crucial factor to take into account, as it can take up to a few months to get the mold design and manufacture correctly, before any injection molding could start. Therefore, it is important that the clients take into account a variety of time-consuming processes, such as design changes, the complexity of the component, the length of time needed to consult with the designers and engineers, and any other unexpected challenges might come up during the injection molding process. Medical device injection molding companies with in-house mold design, mold manufacture and injection molding departments can normally reduce waiting time, as they can be more independent in supporting the clients and adjusting any changes if necessary. 
Besides, the geo-location of the medical device injection molding companies also significantly affect the overall timeline of the project, and companies with locations in different continents could support clients faster and more effectively. 
Does the medical device injection molding company have the potential for a long term supply chain relationship? 
Looking for a medical device injection molding company who is interested in forming a long-term partnership with you from day 1 is beneficial for both the current projects and any future ones. It is important that the chosen medical device injection molding company needs to be able to be aware of the goals of your business and eager to support your expansion, with the aim to develop a long-term commercial relationship. Medical device injection molding companies with years of experience and expertise in the healthcare industry can have the capabilities to advance their technology, knowledge and quality to meet your growing demands in the future. In addition, choosing a contract manufacturer is a time-consuming and costly procedure, so it is best to partner with companies that can not only support you in 1 project, but could become the first choice of consideration for other projects in the future.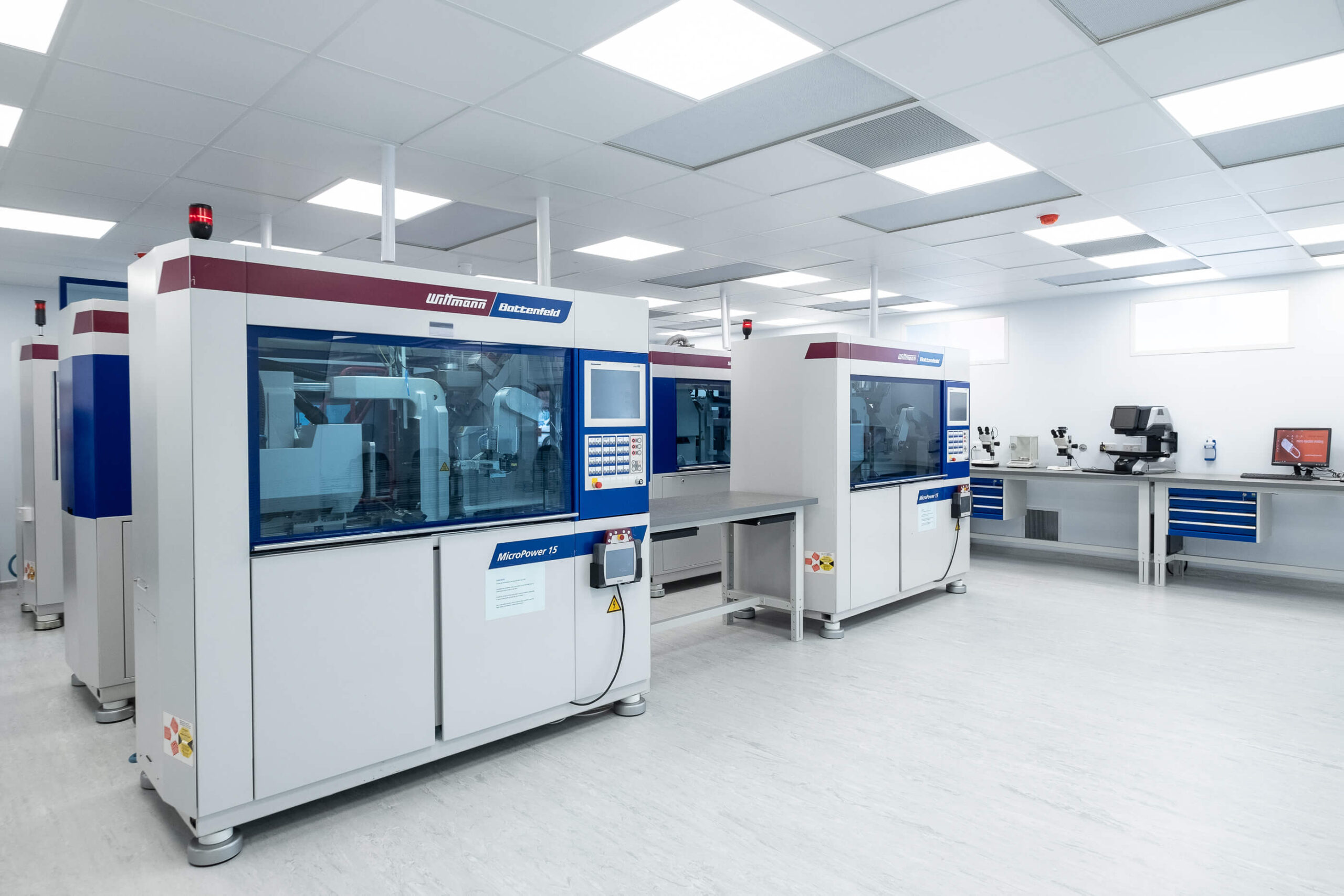 (Photo: Micro Systems)
Micro Systems is a UK based manufacturer of medical molds, micro molds and medical injection-molded parts. Having production facilities and offices in the UK and Singapore helps us to ensure flawless, fast and efficient service to our customers globally. We cater for our customers starting from mold design through mold manufacturing and development to validation within an ISO Class 7 cleanroom. We are ISO 13485 and ISO 9001 certified. All critical processes are backed by high-end Metrology equipment that can measure down to nanometer resolution. Micro Systems products include molds for medical or high-precision plastic manufacturers and injection-molded medical parts produced on-site at our Optimold facility. Contact us today to get the best quote for your medical injection molding project.