Microneedle Drug Delivery Systems
15 Jun 2023
Microneedles have burst onto the scene in recent years as a minimally-invasive, pain free and safe form of drug delivery with a range of applications from skin-care, hormone treatment, vaccinations, contraception, insulin delivery and more. 
What is Microneedle Drug Delivery System?
Microneedles are a collection of tiny needles that may enter the skin through the outermost layer of the skin, known as the stratum corneum, and administer transdermal drugs in a minimally invasive way (Prausnitz, 2017). By creating reversible microchannels to improve the skin permeation of topically applied nanoparticles (such as solid microneedles) or by dissolving beneath the skin to achieve direct delivery of nanoparticles, microneedle patches with hundreds of microneedles connected with supporting layers can effectively overcome the barrier of the stratum corneum to facilitate transdermal delivery of nanoparticles that are far greater than pure drugs.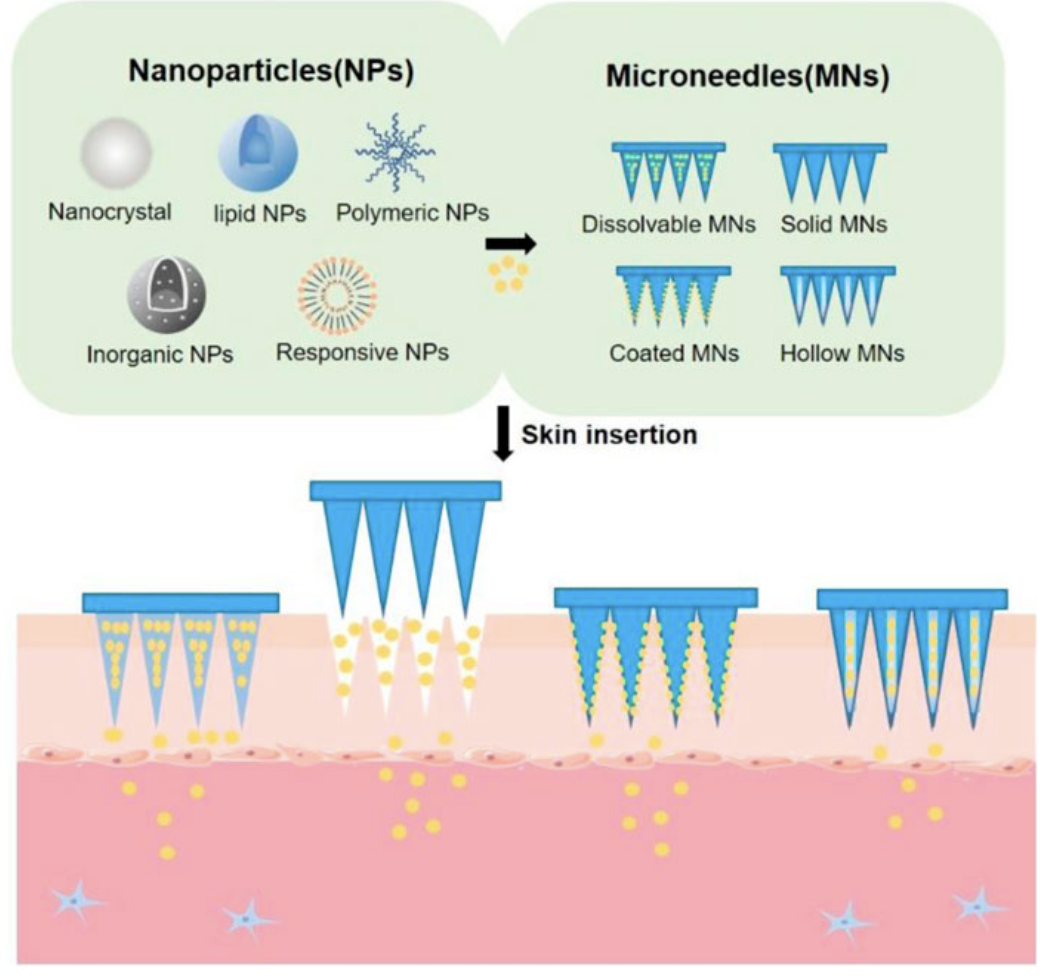 The schematic representation of nanoparticle transdermal distribution using microneedles, (Jiang et al., 2022) 
Microneedles can be used for a range of applications from skin-care, hormone treatment, vaccinations, contraception, insulin delivery and more. Whilst traditional methods of drug delivery would generally involve hypodermic needles piercing deep through the skin, a procedure many find unpleasant, uncomfortable or downright scary, the small size of microneedles means they avoid stimulating the nerve endings, leading to painless delivery. They can also be self-administered discreetly without the need for medical professionals, allowing for much more comfort and privacy.
The manufacturing and development of Microneedles
Microneedles come in a range of shapes and sizes, but they will generally be a set of tiny needles which can be pressed into the body, breaking off under the skin to release the drug. Manufacturing such tiny needles presents many challenges, not-least if they are to be produced by injection molding. Building a mold tool with such precise, tiny features and tolerances necessary to effectively mold sharp needles with micron-level features is no simple task. 
Moreover, the difficulties don't stop with the tool itself. One of the beauties of the Microneedle technology is that the needles may be molded in drug-laden material, meaning the needles are 'ready-to-go' straight off our molding machines. However, the properties of drug-laded materials are very different to conventional thermo-plastics usually used in molding or micro molding, so it is certainly no easy feat to achieve within-spec parts due to the material behaving differently during the micro molding process. As such, it is vital you choose a partner with deep in-depth knowledge and experience in molding micro needle components.
According to recent research, one important area for innovation in the medical device sector is medication delivery via microneedles. A study by GlobalData also identifies the businesses leading each innovation sector and evaluates the potential effect and reach of their patenting activities across various applications and regions. According to GlobalData, there are more than 20 businesses involved in the development and use of microneedle-based medication delivery, including established medical device firms, technology providers, and burgeoning start-ups.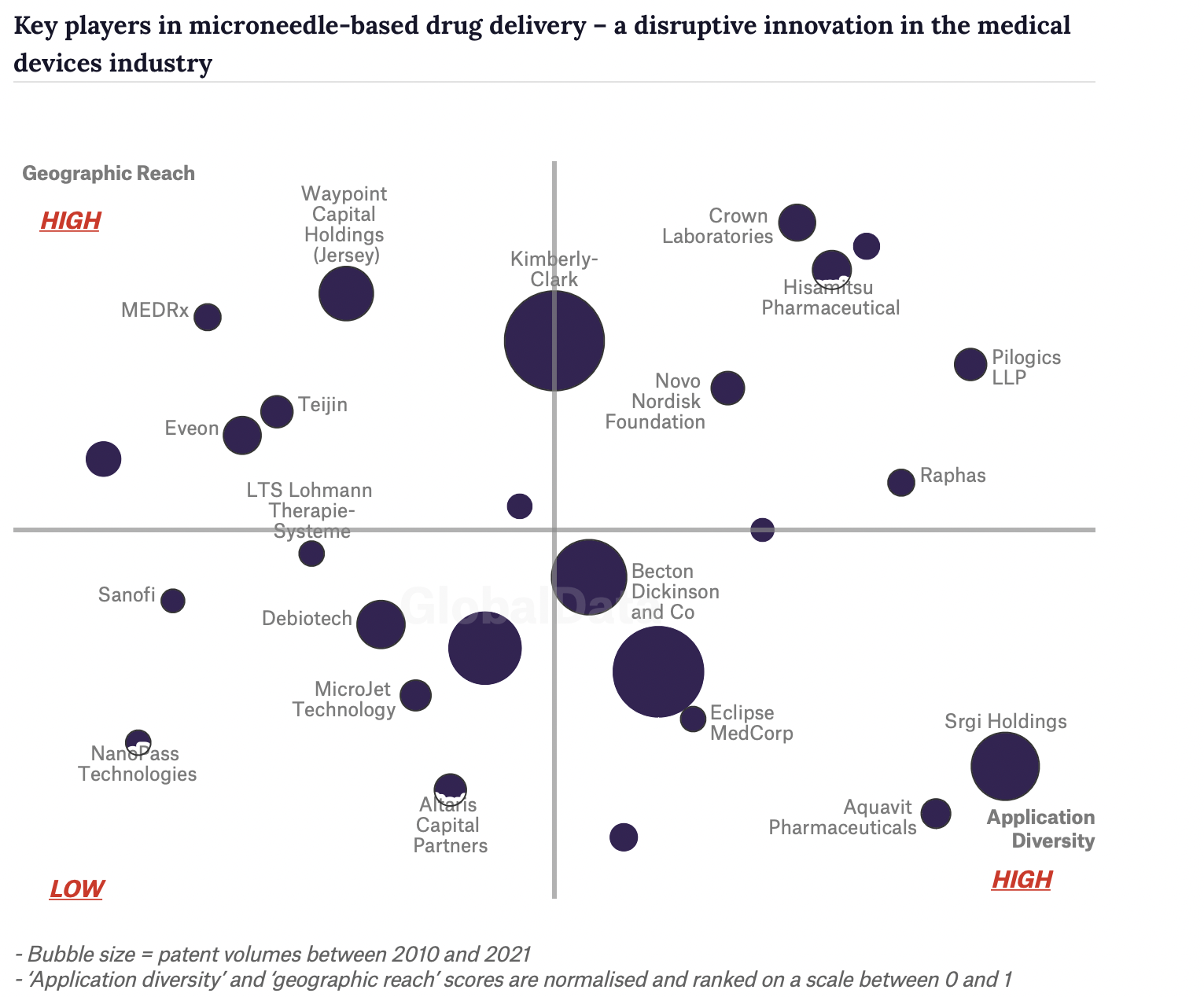 The schematic representation of nanoparticle transdermal distribution using microneedles, (Photo: GlobalData Patent Analytics) 
The market for Microneedles
According to a recently released report, the market for microneedle drug delivery systems is estimated to be worth USD 5.38 billion in 2022, and it is projected to expand at a CAGR of 7.4% from 2023 to 2030.
Thanks to its improved patient compliance with medication regimens, painless and non-invasive drug delivery, and potential to lower patient anxiety and boost adherence to treatment programmes, microneedles are becoming more and more popular on the market, leading to more positive patient outcomes and lower healthcare costs associated with medication non-adherence.
In terms of type, the sector with the highest revenue share in 2022—more than 26%—was hollow microneedles. Insulin for diabetic individuals is frequently administered using hollow microneedles that are regularly used to administer hormones and vaccinations. These microneedles are perfect for use with patients receiving hormone treatment and vaccines because they can provide a higher dose of medication since more medication can fit within the needle. Additionally, the category for dissolving microneedles is anticipated to see the quickest growth over the projected period, as they don't need to be withdrawn after insertion and simply require one step, hence less uncomfortable than using a syringe to administer active substances. There is also a growing interest in dissolving microneedles made of biodegradable materials since they make it possible to administer drugs without producing trash that is sharp, infected with bacteria, or that cannot be broken down. 
In terms of material, the sector with the biggest revenue share in 2022—more than 28%—was metal, of which the most popular are titanium and stainless steel. Additionally, palladium, nickel, and palladium-cobalt alloys are employed as metals. Over the projection period, the silicone material category is anticipated to have the quickest CAGR due to its adaptability, which makes it possible to generate needles of different sizes and forms. 
In terms of application, in 2022, the medication delivery market share generated the most revenue at 34.9%. The rising problem of chronic illnesses including cancer, diabetes, and cardiovascular disorders is one of the major factors behind this rise, leading to a higher demand for efficient drug delivery techniques that can provide therapies with higher accuracy and efficacy.
In terms of region, in 2022, North America led the market and generated 43% of total revenue. The pharmaceutical sector in the area is robust and well-established, and it is a major market driver for microneedle drug delivery. Additionally, in Asia Pacific, the market for microneedle drug delivery systems is anticipated to grow at the quickest rate, or CAGR, of 8.2%. The cost of healthcare has significantly increased in the area, which has increased investment in R&D projects including microneedle medication delivery, leading to more cutting-edge products and technology, which has accelerated market expansion. 
At Micro Systems, we have been at the forefront of R&D in the Microneedle industry, and we have been able to develop our own techniques and trade secrets to overcome common problems which occur when manufacturing molds and molding micro needles, such as gas build up at the needle tip, ejection difficulties or unusual material behavior. When it comes to a challenging microneedle project, Micro Systems has the confidence and the competence to assist medical manufacturers, Life Science companies and healthcare organizations in achieving their most challenging requirements.
References:
Prausnitz, M. R. (2017). Engineering Microneedle Patches for Vaccination and Drug Delivery to Skin. Annu. Rev. Chem. Biomol. Eng. 8, 177–200. doi:10.1146/annurev-chembioeng-060816-101514
Jiang, X., Zhao, H. and Li, W. (2022) 'Microneedle-mediated transdermal delivery of drug-carrying nanoparticles', Frontiers in Bioengineering and Biotechnology, 10. doi:10.3389/fbioe.2022.840395.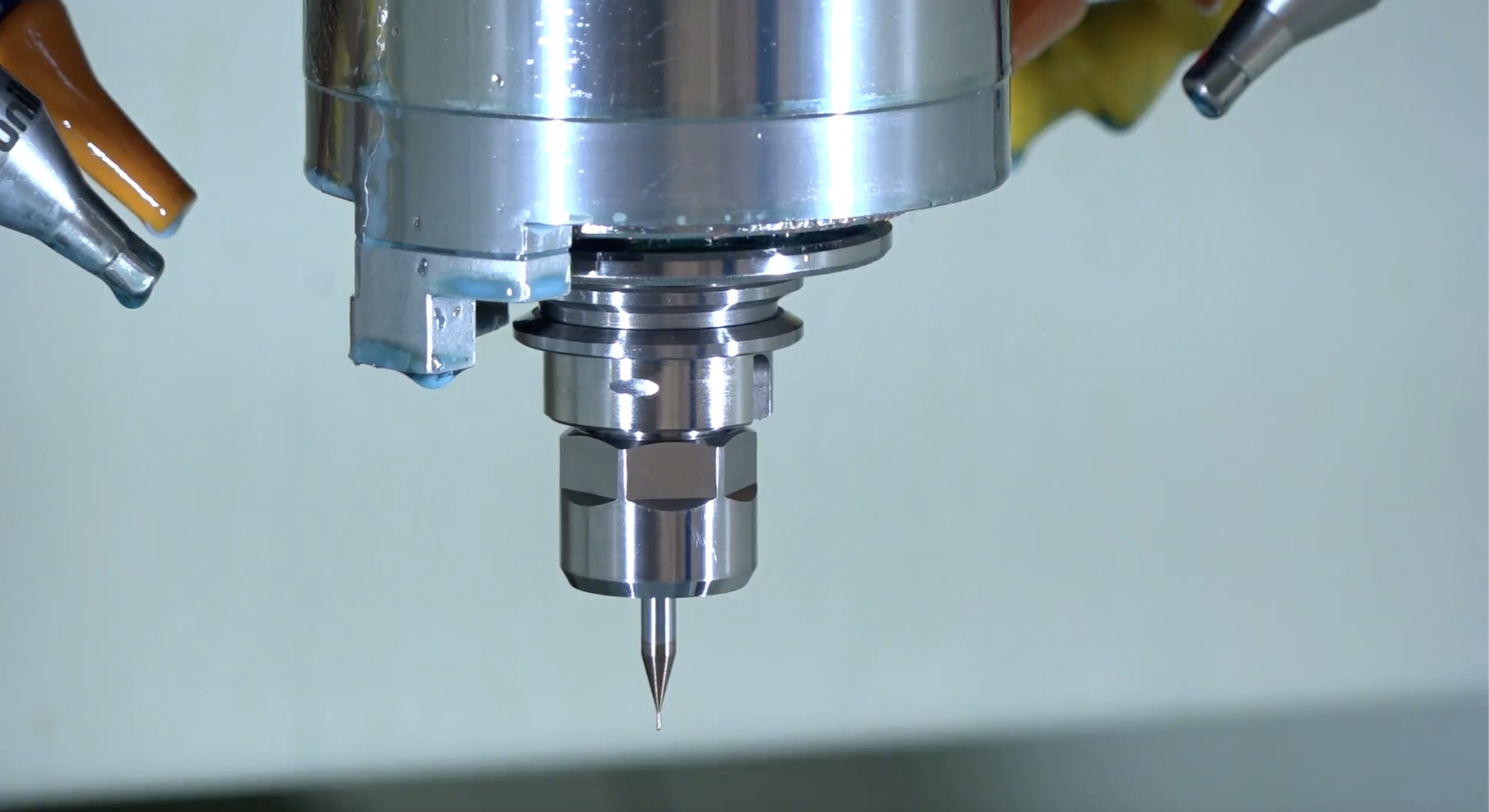 Micro Systems's vast know-how in design, ultra-precision micro machining capabilities and expert knowledge in micro molding technology allow us to manufacture advanced microfluidic molds with tolerance as low as +/-0.001mm, with integrated optics. We have a dedicated micro molding facility, and have ISO13485 and ISO9001 certifications. For more information, please Contact us or visit our website.